Your 4-week step-by-step strategy to:
Communicate efficiently, maximize your time, and make your sales process seamless!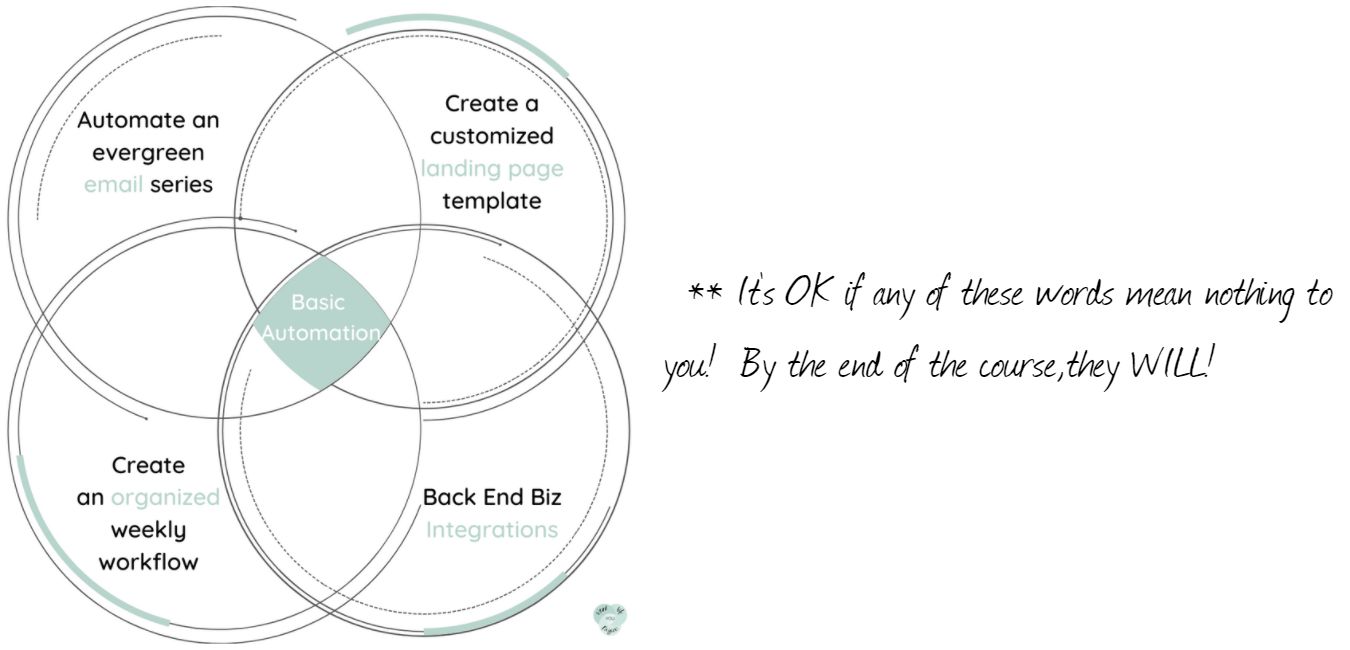 Whether You

Spend hours just trying to send out a simple marketing email

Have no landing pages, ones that are super clunky, or have no clue what a landing page is

Stare at your computer all day but ultimately get nothing done
I know what it's like "tweaking" and fighting with the technical side of your business; your emails, website, landing pages, etc. You started your business so that you can help people, not so you can spend all your time frustrated and exhausted trying to make your business look professional and polished. 
I can help you upgrade the professionalism of your business simply…AND give you back time in your day to focus on what you do best…serving your customers!
My Story
I started my first business as a side hustle over 15 years ago. Even before the world of online coaching blew up, I was researching, learning, and mastering the skills needed to grow my business and be present for my clients all without spending 24/7 tied to my phone or computer. I learned quickly that small business customers want to feel like you are there for them whenever they need you, regardless of the fact that you are just one person.
 If I hadn't learned to automate certain aspects of my business, and to grow and adapt to the ever-changing technology  available to an entrepreneur, I never would have had time to actually coach my clients (that's the whole point, isn't it?)
​Over time, I became so knowledgeable and skilled at this type of technology that my corporate employer took notice and started having me design processes and systems to do the same for them. About a year ago, I was recruited away from that company, largely due to those skills, and now work at a Fortune 5 company doing the same thing!
​Knowing the basics of business tech, such as creating email automations, a basic landing page, a simple website/blog, and effectively using organizational tools to boost my productivity has granted me the amazing freedom to follow my business where my clients and my purpose lead.
What You'll Learn
Learn the Pros and Cons of the most popular FREE and PAID email marketing clients for Solopreneurs and Small Business Owners

The BIGGEST MISTAKES I see my clients make as they choose and set up their email list

How to tell if your current email marketing is pushing you forward or holding you back

How to create a simple 3-email Welcome Series in MailChimp (free) and ActiveCampaign (paid)
Branding Your Landing Page

Choosing where to host your Landing Pages

How to create a landing page in ActiveCampaign
How to use Trello (basics)

How to customize and use my Trello Business Command Center template (INCLUDED)

Other mind-blowing ways to use Trello to organize your biz 
What integrations are and why you need them

How to choose which integrations to create to maximize efficiency with free accounts

Zapier: How to create a Zap
What My Clients Say…
Tech Savvy Academy
101
Your 4-week step-by-step strategy to:
Communicate efficiently, maximize your time, and make your sales process seamless!
I am offering 2 ways you can take this course so find the option that suits your needs and budget best.
Audit the Course  – $79
Auditing the course is the most cost-effective way to learn with me! This option includes:
Training videos and tutorials to set up 4 must-have tools in your entrepreneur toolkit
Guidance as you choose the tools that are best for you in this season of your business
Q&A using the comments feature on each course page
---
Enroll in the Course – $149
30-day program to set up 4 must-have tools in your entrepreneur toolkit
4 Weekly live group zoom Q&A sessions
A private Facebook community as you build the technical framework of your business
Guidance as you choose the tools that are best for you in this season of your business
Links to the zoom replays
Personal feedback and coaching from me in the private group on your business tools and struggles