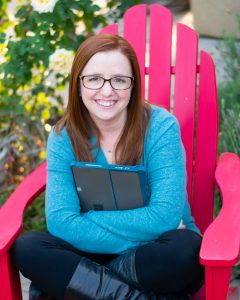 Hi! I'm Kelly!
…and I empower female entrepreneurs to create freedom in their business by showing them that they CAN be tech-savvy without breaking the bank. 🤓
---
How Can I Help You?
Free Resources
Tackle the tech of your business with ease! 
​
In this FREE Mini-Course, you will:​
Choose or Upgrade Your Email Marketing Client
Learn how to create an automated email Welcome Series to build that know, like, trust factor
Connect Your Biz Apps and Send Emails They'll Love
Harness the Power of Pinterest for Your Business
In this FREE Masterclass you will learn:
How to create or convert your Pinterest Business Account
What type of boards and content to pin
How to find and use Pinterest keywords to reach more people
How to batch "pinning" to save time (this IS the Tech-Savvy Academy after all!
---
Premium Courses
Tech-Savvy Study Hall
I'll Save a Seat for You!
I know you have the best intentions when it comes to setting aside time to focus on your business.
Tech Savvy Study Hall…the place where you can find accountability, tech support, and focused time to actually be productive while working on your business.
Tech Savvy Academy 101
Tackle the tech of your business with ease! 
​
Your 4-week step-by-step strategy to communicate efficiently, maximize your time, and make your sales process seamless! ​
I highly recommend you start with the free Automate Your Biz Mini Course, but if you are ready to dive in, learn more about the premium course below.
Tech-Savvy Academy 201
Dive deeper into one (or more) of these game-changing business tools!
In-Depth, On-Demand, Platform-Specific Video Tutorials
Pinterest
Trello
MailerLite/ActiveCampaign/MailChimp
Acuity Scheduler/Calendly
…and more!
Coming Soon
Tech-Savvy Academy 301
Customize your business process and optimize your systems
Your 3 month 1:1 program to evaluate your current process, build a custom solution, and give you back your life!
Go from overwhelmed to empowered with the right strategy for your business
---
Private Coaching
Private 60 – Minute Coaching Session
Need a little 1 – on – 1 attention? I'm happy to walk you through building out your email automation, or brainstorm with you about what you should focus on next!
Let's Chat!
---
What My Clients Say…